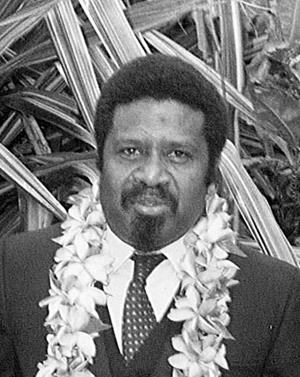 The Rev. Walter Lini was an Anglican priest who led the 83 Melanesian islands of Vanuatu. He was born on Pentecost, one of the larger of what were then the New Hebrides, a Y-shaped cluster of islands administered jointly by Britain and France. He had studied for the ministry in New Zealand and was serving as a priest and as leader of the New Hebrides National party when the colonial rulers announced plans to withdraw by 1980. Following the achievement of independence for Vanuatu on July 30, 1980, Lini signed a defense pact with Papua New Guinea, which sent troops to aid local police in ending internal rebellion.
Under Lini's command, Vanuatu charted its own geopolitical course. He opposed France's Pacific Ocean nuclear-testing schemes, supported New Caledonian nationalist groups, limited U.S. naval traffic in the area, and made welcoming gestures to Vietnam, Cuba, and Libya. In the late 1980s Vanuatu President Ati George Sokomanu attempted to dissolve the national parliament, but Lini survived and reestablished his government. Criticism of the government grew over the next few years, however, and Lini was forced out of office in 1991.
Lini's premature death robs both his country and the wider South Pacific of a modern man of the people. Among the last of the surviving Pacific island leaders to have had a hand on the wheel of destiny, his was a tough uncertain ride from colonialism to independence, and beyond.
For any questions about Walter Lini Day or to make a booking at the best possible rate, contact us on the form below, we are open 24 hours 7 days