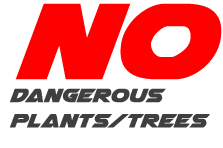 Vanuatu has many plants of varying sizes. Notable plants found in Vanuatu include the Polynesian chestnut tree, the Merbau tree which grows profusely in mangroves, the Fabaceae, a flowering tree in the pea family and the Wonga Wonga vine, a beautiful flowering creeper.
There are dozens of other flowering plants on the islands of Vanuatu and many of these are found elsewhere in the Pacific and even in Australia and Queensland in particular.
The locals in Vanuatu proudly claim that there are no dangerous plants or trees in Vanuatu.