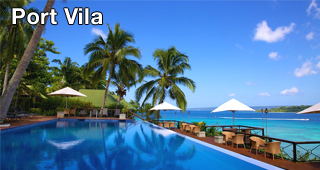 Port Vila is the thriving capital city of the island nation of Vanuatu. Located on the island of Efate, it is steeped in history and has been inhabited for thousands of years. This, in combination with its tropical climate, has made it a very popular tourist destination for visitors throughout the year.
Port Vila Tourism
With its amazing examples of architecture to explore, shopping for arts, crafts and fresh foods in the daily markets, or exploring the flora and fauna of the magnificent cascading waterfalls, Port Vila has plenty to offer the tourist who wishes to fill their holiday with amazing sights and sounds. A stroll through the street markets is filled with colour and you can find some handmade crafts to take home for souvenirs, without the haggling and pressure of some other shopping experiences around the world. There is a vast array of art and culture to savour within the city, from traditional sculptures which are decoratively arranged to the amazing graffiti wall art of colourful murals.
Explore the Summit Gardens, with its diverse collection of gardens occupying over ten hectares, filled with delightful pathways and breathtaking vistas. A visit to the Essential Oils Distillery is a must to watch how the oils are extracted from the plants and trees grown in the garden, before being made into candles, soaps and other beauty products, which are available to purchase.
There is also a huge selection of water sports and activities within the city. Kayaking, snorkelling, scuba diving and zorbing are just a few examples which can be experienced, with some companies specialising in trips and adventures in and around the city.
Whether you are looking for an action packed holiday adventure or rest and relaxation in a tropical paradise, you will find that Port Vila has something to offer you.
Hotels in Port Vila
There is an amazing selection of Bed and Breakfasts, inns and hotels in Port Vila, with a range encompassing the more basic accommodation, luxury hotels, romantic getaways and family friendly resorts to suit a variety of budgets.
The vast selection of lavish beach resorts provides travellers with the choice of luxurious environments to rest and relax and enjoy the spectacular view of the clear blue waters. The facilities vary but usually feature spacious rooms, beautiful restaurants serving up a diverse menu but specialising in local fresh fish, with friendly helpful staff and engaging cultural shows.
For the more modest budget, great value and quality motels can still be found within the city, with a great balance of comfortable rooms with good facilities, allowing the more adventurous tourist an economical base to retreat to after a full day of exploring.
If you are interested in learning more about hotels, Port Vila or holidays in the nearby resorts of Espiritu Santo or Tanna Island then please contact us. We would be delighted to assist you in the planning of your holiday or with any questions or queries you may have.