Fanla Village, North Ambrym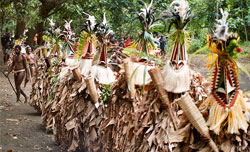 For two days each July the Fanla Festival (ROM Festival) is held at Fanla Village. Many different kustom dances are performed, which culminates in the unveiling of the ROM where the dancers compete for the best mask. Visitors are welcome and men from nearby villages come to dance and to display their carvings.
Watching the ROM dance is an amazing experience – the ground reverberates with rhythmic foot stamping and the powerful beat of the Tam Tam drums as the dancers herald in the ROMs, adorned in their ceremonial head dresses, intricate masks and flowing costumes.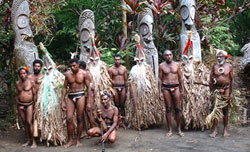 This festival is not to be missed if you wish to see authentic, energetic, well-costumed Rom kastom in Vanuatu. There are usually more than 20 dancers and a crowd of over 300 village people. The festival gives you the very rare opportunity to witness the circumcision ceremony, with all the associated kastom dances. The story behind the ROM kustom will be told, and there will also be traditional bamboo music, mouth-organ playing, traditional cooking, weaving demonstrations and powerful Magic. Beautiful artifacts carved in wood and lava stone will be on sale.
Fanla is one of the oldest villages in Ambrym and is an interesting mix of building styles – both traditionally built huts and more western-style houses, built from a range of materials.
Interested? Let one of our Vanuatu travel consultants help you plan an unforgettable Vanuatu holiday.
To take the first step, fill in the form below or email us at info@vanuatu.com.au
We're only one click away!