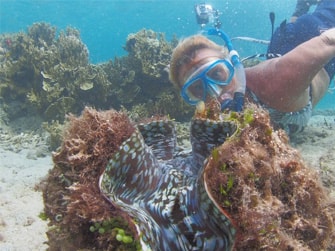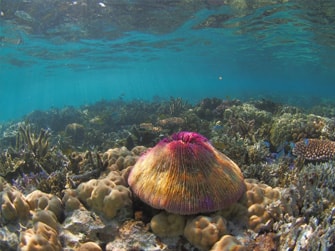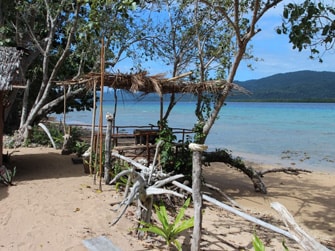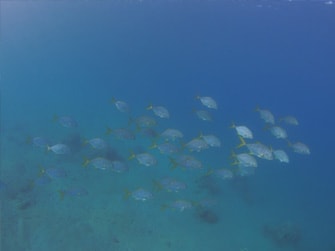 Experience some of the best snorkelling that Malekula has to offer at Uri Marine Reserve – it's a short boat ride from Lakatoro to warm, clear, tropical waters – with abundant coral, plentiful fish-life and amazing colours and textures – see giant clam shells – and you may even see a turtle or dugong! There is also opportunities to try paddling a traditional outrigger canoe and pandanus weaving. Your hosts will provide lunch and other activities to make this day trip into a very special and memorable day.
Fitness Rating: Moderate
Typical Full Day Programme:
Your host will pick you up by boat from Lakatoro landing (follow the road south of the MDC store to the sea).
Snorkeling Uri Marine Park (at low tide).
Snorkeling and relaxing on the beach at Nanwut Bungalows.
Traditional outrigger canoe paddling.
Take a walk through the forest to see the huge nabanga (banyan) tree – the home for flying fox.
Try some traditional weaving of baskets and mats.
Return by boat to Lakatoro on dusk (or earlier by request).
Price:
4,500 VT per person (min 2)
Day trip per person, including lunch, return boat
trip and snorkeling equipment.
​SAFETY: Adventure Tourism always has an element of risk, that's why it's called "Adventure" tourism. Risks are managed through a comprehensive assessment process to ensure they remain at an acceptable level. Your safety is important to us so we provide specific information on each of our adventure activities. These include health and fitness requirements, what to bring, and general information. This information will also be included in your booking itinerary or contact us below.
For any questions about Uri Marine Reserve Snorkelling Tour or to make a booking at the best possible rate, contact us on the form below, we are open 24 hours 7 days